Strange!
Very unusual!
It is usually the spring of the year when tornadoes begin to form . . . not the late fall.
People were told to hide in their basements.
But the wind strength of the tornadoes was so strong that houses were shredded and the contents dumped on top of the people below.
In Indiana, where I live, we had 80 mph winds.
Four miles south of my house seven huge telephone poles were ripped apart like toothpicks.
The first thing that came into my mind and spirit was that Illinois, which just passed the "men can marry men law", and "women can marry women law", was the hardest hit.
Think of it: 200 miles per hour winds!
Two other things were clearly impressed on my mind: WASHINGTON AND MANHATTAN, both towns in Ilinois, were the hardest hit.
Could these storms be prophetic?
Was this a warning that WASHINGTON, D.C. AND MANHATTAN in NEW YORK CITY will both experience the judgment of God in the coming days?
All I know for sure is that 80 tornadoes in November is VERY, VERY UNUSUAL.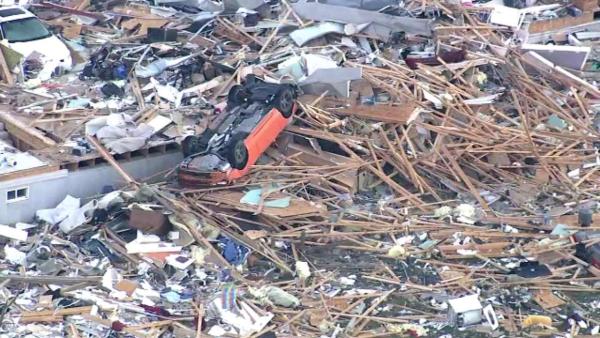 The most amazing thing of all is that only seven people were killed!
WAIT AND WATCH AND SEE WHAT GOD DOES IN THE COMING DAYS!
"So a mighty wind will sweep them
away . . " (Hosea 4:19).
Albania, Algeria, Armenia, Australia, Austria, Belgium, Brazil, Bulgaria, Burma, Canada, Chile,
China, Costa Rica, Cyprus, Czech Republic, Denmark, Dominican Republic,
Egypt,
France, Finland, Georgia, Germany, Guatemala, Haiti, Hungary, India, Indonesia, Israel, Ireland, Italy, Jamaica, Japan, Jordan, Kazakhstan, Kenya, Latvia, Malaysia, Malawi, Mexico, Namibia, Nepal, Netherlands, New Zealand, Nigeria, North Korea, Pakistan, Philippines, Poland, Portugal, Romania, Russia, Saint Lucia, Saudi Arabia, Serbia, Singapore, South Africa, South Korea, Spain, St. Martin, Sweden, Switzerland, Taiwan, Tanzania, Thailand, Turkey, Uganda, Ukraine,
United Arab Emirates, United Kingdom, United States, Venezuela, and Vietnam.
Extra Info:
One million seconds = eleven days.
One billion seconds = 31 years.
One trillion seconds = 36,720 years.
From Jesus till now = 2,000 years.
From Abraham till Jesus = 2,000 years.
From Adam till Abraham = 2,000 years.
From Adam till now = 189,345,600,000 seconds ago (6,000 years).
Our national debt = 14 trillion dollars.
If you counted one dollar each second . . . it would take you 440,080 years to count it all. :)