Just "a normal American kid".
Are you kidding me?
A "normal American kid" does not set a bomb next to an eight-year-old boy and then blow him to smithereens!
No!
This is called "jihad". And it is a basic belief of Islam.
These bombers were not "radicalized", either. They were merely practicing their beliefs as Muslims.
"They will have no mercy on helpless babies, and will show no compassion for children" (Isaiah 13:18).
Wake up, folks! The media is blind, but you don't have to be.
There are tens of thousands of these
trained terrorists
(sleeper cells) waiting in our midst to do the "deed" when called upon to do so.
"Radicalized Muslim" is the new catch-word the media wants us to fall for. This time we are not "falling". "Jihad" is the real name and it is the basic tenant of Islam.
No Muslim has to be "radicalized" to set a bomb at the feet of an eight-year-old boy and blow him to smithereens. All he has to do is believe the Koran.
Hello, MEDIA! We may be dumb Americans . . . but we are not this dumb.
The F.B.I. is now attempting to find all the members of these cells.
"EVERY HOME IS LOCKED TO KEEP OUT INTRUDERS" (Is. 24:10).
This is exactly what the Boston police told the residents!
Don't ever try to tell me that the Bible is not precisely accurate!
Oh . . . by the way . . . both terrorists were "peaceful" muslims.
"No more hurting people."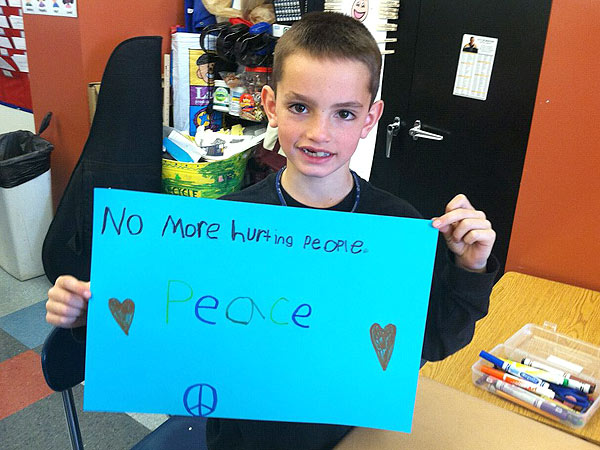 Talk about heartbreaking: This eight-year-old boy, Martin Richard, made the poster just a few days ago.
He was killed by the bomb at the Boston Marathon!
Here I am again . . . yelling into the wind!
The main difference between "Allah" and the real God:
"The thief's purpose is to steal, kill, and destroy. My purpose is to give you a rich and satisfying life."--JESUS

(Jn. 10:10)
These muslim boys were generously welcomed to the United States. Our tax dollars gave them friendship, food, housing, and schooling.
People like them are ingrates!
Their "thank-you" was to kill a precious innocent eight-year-old boy, several other people, and maim and wound many others.
TERROR!
Our government needs to change its entire policy. We must PROFILE. We must not overlook the fact that many, many muslims hate us. We must recognize that many of them have come to our country for the express purpose of destroying us.
More attacks like this will happen until we come to our senses, use common sense, and aggressively investigate MUSLIMS who show the slightest sign of hating us.
"If you do not like the United States and its people, then we will make sure you go back to where you came from. You are not wanted here!"
Being "politically correct" is literally killing us.
But there are left-wing-loonies who would rather be politically correct than keep Americans safe.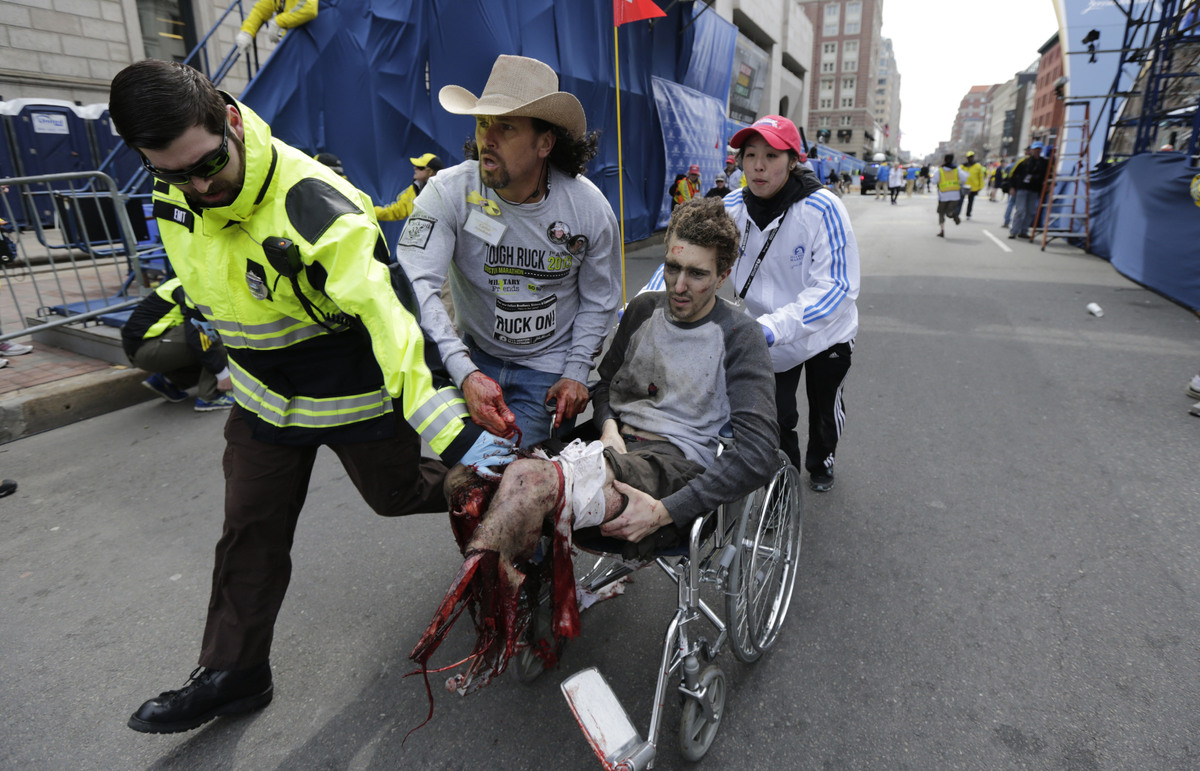 "When a man's ways please the Lord, he makes even his enemies to be at peace with him" (Proverbs 16:7).
The "ways" of the United States of America no longer "please" the Lord.
We have murdered more than 50 million innocent children.
We have exported pornography to the nations of the world.
On May 15 of last year our President, Barack Hussein Obama, publicly condoned sodomy. And now our Supreme Court is trying to decide whether or not to make it a law of the land for two men to marry.
And these are just the top three!
"You

have made a hedge about him, and about his house

. . ." (Job 1:10).
For most of the years that the United States has existed, we have received protection from God. That "hedge" has now been lifted because of our national sins.
The solution is not tighter security.
The solution is for our nation . . .

starting with the professed Christians

. . to turn back to God.
And this is the
only solution.
We can write letters to our congressmen and senators, attend rallies, listen to great speeches, sit in committee meetings, and become involved in all kinds of "busy-work".

But none of these things will accomplish a hill of beans unless the church people repent first, and then our nation follows.
No matter how busy we get . . . it will all be in vain"
Katherine Russell, raised a Christian, began shrouding herself in Muslim garb in 2010. She is the widow of one of the bombers.
DOES SHE "LIKE" TO DRESS LIKE THIS? WHAT WOMAN WOULD? NO! HER HUSBAND BEAT HER IF SHE WORE NORMAL CLOTHING.
DOESN'T THIS SOUND LIKE A "FUN" RELIGION?
"I will tell you what I will do to my vineyard: I will take away the hedge thereof, and it shall be eaten up; and break down the wall thereof, and it shall be trodden down:

(Is. 5:5).
"I also will do this unto you; I will even appoint over you terror, (Lev. 26:16).
"The sword without, and terror within, shall destroy both the young man and the virgin, the suckling also with the man of gray hairs" (Dt. 32:25).
". . .
your terror is fallen upon us, and that all the inhabitants of the land faint because of you" (Joshua 2:9).
"A dreadful sound is in his ears: in prosperity the destroyer shall come upon him" (Job 15:21).
Several people will never hear again because the bomb blast blew out their ear drums.
"Terrors take hold on him as waters, a tempest steals him away in the night

" (Job 27:20).
"There were they in great fear, where no fear was: for God hath scattered the bones of him that encampeth against thee: thou hast put them to shame, because God hath despised them" (Psalm 53:5).
"How are they brought into desolation, as in a moment! they are utterly consumed with terrors

" (Psalm 73:19).
"Thou shalt not be afraid for the terror by night; nor for the arrow that flieth by day;

" (Psalm 91:5).
"And they shall go into the holes of the rocks, and into the caves of the earth, for fear of the
Lord
, and for the glory of his majesty, when he arises to shake terribly the earth" (Is. 2:19).
" . . . and be not afraid of their terror, neither be troubled . . ."
(

1 Peter 3:14

).
Be sure to read Michael Mukasey's article:
http://online.wsj.com/article/SB10001424127887324874204578436592210910044.html