INCREDIBLE STATISTICS:
ONLY 8% OF THE EMPLOYEES IN OBAMA'S ADMINISTRATION HAVE EVER HAD A JOB!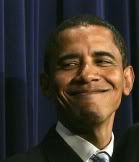 Obama's latest quote:
"Raising the debt ceiling doesn't increase the nation's debt."
("the average person thinks raising the debt ceiling must mean that we're running up our debt.")
Is it possible that the President of the United States of America made a statement like this?
In your personal life if you borrow more on your credit card will your debt increase? Of course it will. But if you think that your debt will not increase when you borrow more. . . this is just plain stupid. So dumb! Beyond dumb!
This graph tells the story . . . plain and simple: http://blogs.ajc.com/kyle-wingfield/2009/11/30/obamas-cabinet-this-graph-explains-a-lot/
"Two things are infinite: the universe and human stupidity; and I'm not sure about the universe." ___Albert Einstein
H.L. Mencken (born 1880 - died 1956) was a journalist, satirist, critic, and Democrat. He wrote this editorial while working for the Baltimore Evening Sun, which appeared in the July 26, 1920 edition.
"As democracy is perfected, the office of the President represents, more and more closely, the inner soul of the people. On some great and glorious day, the plain folks of the land will reach their heart's desire at last and the White House will be occupied by a downright fool and complete narcissistic moron.
---H.L. Mencken,
The Baltimore Evening Sun, July 26, 1920
AND THESE LAZY MORONS ARE MAKING NATIONAL DECISIONS THAT DIRECTLY AFFECT OUR WAY OF LIFE.
Check out the "brilliant" leaders of Detroit: